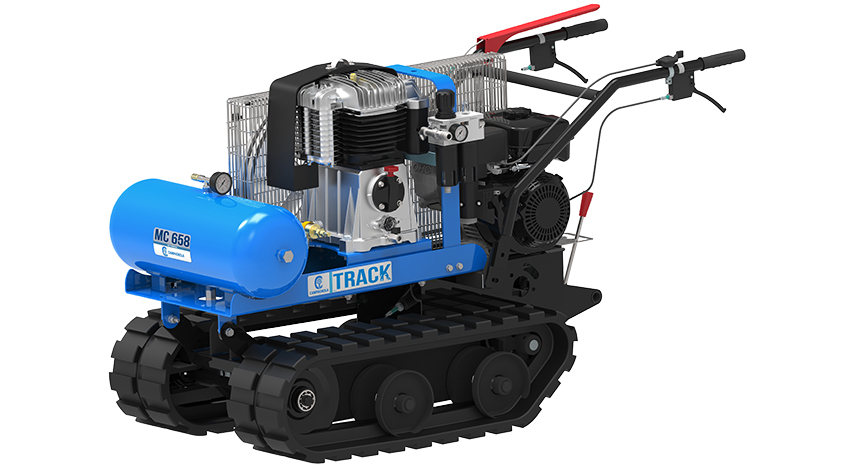 The PTO compressors of the ECOPLUS line by Campagnola are compact, powerful and reliable, characterized by sober and essential lines and high quality components.
Campagnola offers 4 models – all connected to the tractor three-point-hitch – among which ECOPLUS 1500 and ECOPLUS 1700 TANDEM stand out. Designed for a professional use, they are both fitted with a double tank and a double filter/regulator/lubricator unit.
To avoid any overheating of the head block, ECOPLUS 1500 is cooled by means of a fan. ECOPLUS 1700 TANDEM – unique in its genre – has a double compressor block.
| | | | | |
| --- | --- | --- | --- | --- |
| | Ecoplus 520 | Ecoplus 950 | Ecoplus 1500 | Ecoplus 1700 Tandem |
| Shears quantity that can be operated | 5 | 7 | 11 | 15 |
| Chain pruners quantity that can be operated | 1 | 1 | 2 | 3 |
| Harvesters quantity that can be operated | 2 | 4 | 5 | 8 |
| Air displacement | 554 l/min | 820 l/min | 1500 l/min | 1640 l/min |
| Cylinders count | 2 | 2 | 2 | 2 |
| Stages count | 1 | 2 | 2 | 2 |
| Air tank capacity | 25 air/L | 25 air/L | 2 x 20 air/L | 2 x 20 air/L |
| Maximum tank working pressure | 9 / 11 | 9 / 11 | 9 / 11 | 9 / 11 |
| Weight | 89,65 kg | 104,5 kg | 104,5 kg | 104,5 kg |
| Dimensions | 56x64x86 | 56x64x86 | 61,5x75x106,5 | 98x79x86 |